Creative Free Writing
Easy Tips to Help Your Students Beat Writer's Block
Creative free writing, also known as sustained silent writing, is the writer's spin on the common classroom practice of sustained silent reading. A must for all creative writing lesson plans!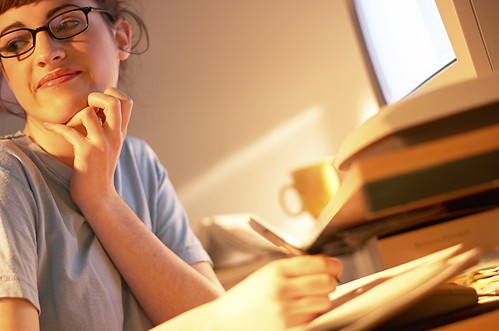 The purpose of creative free writing is to give students uninterrupted writing time every day. Sometimes this uninterrupted writing time might serve as a time for
creative journal writing
or for exploring
original writing prompts
. When implemented into the brainstorming process, creative free writing helps generate ideas for that
creative writing topic
or
creative writing prompt
.
Regardless of the purpose, simple guidelines for creative free writing can help your students make the most of stream-of-consciousness writing:
A Regular Schedule: Plan small blocks of time on a convenient schedule for creative free writing. Begin with shorter time limits, such as five minutes. Then move on to longer chunks of the clock, such as ten to fifteen minutes.


Play Music: Soft, instrumental music playing in the background can stimulate original thinking. In my classroom, I was partial to nature CDs: the songs of dolphins and whales, or the soothing sounds of a rainstorm.


Materials A-Plenty: Keep an ample supply of paper, pens and pencils, and erasers handy. It's distracting to rummage for materials when that time should be used for writing. Also, make available a collection of objects that trigger creative thought. See this page, original writing prompts, for ideas ranging from photos to gemstones.


Separate Journals: Keep separate pocket folders or bound journals for creative free writing. Later, pages holding promising draft material can be removed as needed. See this page, creative journal writing, for journaling tips and tricks.
Creative free writing can become a favorite time of the day among your students. It allows time for independent "clearing of the head on paper," a time when the creative cream rises to the top within each of your students.
Don't forget to write alongside your students, as well!
Return from Creative Free Writing to Creative Writing Lesson Plans 

Return from Creative Free Writing to Creative Writing Ideas and Activities 
---
Helping You Write Across the Curriculum!
copyright 2009-2013 www.creative-writing-ideas-and-activities.com