Autobiography to Spark Creative Writing? Of Course!
Whose autobiography are you reading with your students? Politician or statesman? Human rights champion or environmental activist? Exploration or science pioneer? The possibilities abound for using life stories to spark creative writing! What follows is a generalized guide for expanding autobiography study into creative writing projects. Adapt these ideas to your unique lesson plans.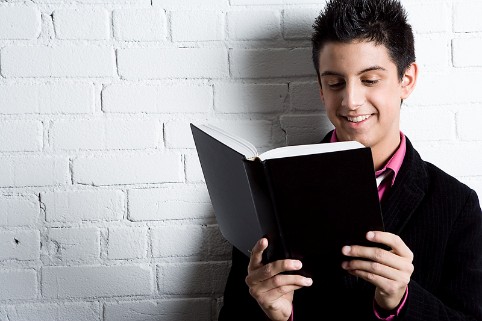 Getting Started...
Chances are your students are far more familiar with autobiographical forms than they think they are! Invite your students to reach into their memories and recall different times and ways in which they've shared their own lives. List their ideas together as a class. Written pieces can range from journals and diaries to friendly letters, personal poetry, and first-person accounts about life events. Interesting visual and oral first-person pieces can include paintings, photo or video albums, and descriptions of tangible mementos such as awards or favorite childhood toys. Clearly, your students will realize that they are more versed in autobiography than they initially thought!
-Now-
Challenge your students with this thought: suppose they wanted to write their own autobiographies. How would they use the above-mentioned items to get started? Would they put pieces in chronological order? Would they choose things of most personal importance and then write about why they're significant? Or would they choose several items and interview family members about those pieces?
With this personal exploration of autobiography as a beginning foundation, remind your students that autobiography serves two basic purposes:
writing about one's experiences, emotions, ideas, and goals for a WIDE audience and
creating a permanent record of significant memories and events for ONESELF.
Now you're ready for...
Reading Autobiographies in Literature Circles
As your students begin to read a selected memoir, remind them to outline the following four key points for a critique activity:
Describe the key incidents that shape the writer's life.
Describe major influences (people, events, and places) that impact the writer.
Describe the interactions between the writer and significant people in his or her life.
Discuss and describe the writer's emotions, reactions, values, and goals.
Each of these four elements of autobiography form the basis of good group or class discussions.
Now that your students have read and critiqued one or more first-person acounts, let them try their creative hand at some...
...Imaginative Autobiographical Writing!
Incorporating the four key elements of autobiography, suggest these creative writing ideas:
Take an existing poem and rewrite it from the point-of-view of one of the characters. Rewrite Longfellow's "Paul Revere's Ride" through the eyes of old Paul's horse, for example.
Retell a fairy tale from the viewpoint of one of its characters. When Snow White moves in with the dwarves, what does one of the little men think about this turn of events? (Rewriting fairy tales is a favorite choice of my students!)
Research a well-known historical figure and then create imaginary journal entries that this person might have written. For instance, after studying the life of Amelia Earhart, write a first-person journal entry in which Amelia describes the night before her first solo flight.
And here's another student favorite: instead of the traditional science report, write in the first-person voice of a plant, animal, or other element in nature. Follow the adventures of a single droplet through the the water cycle. Describe life along the migration route through the eyes of a Canada goose.
...and for a final creative writing project...
Revisit the original list of personal autobiographical forms generated by the class. Using what they've learned about the four elements, have students select a form (diary entry, letters, poems, essays, paintings, collages, etc.) and compose/create first-person pieces that illustrate one or more of the autobiography key elements.
These completed and polished projects make great conversation starters with parents!
Return from Autobiography to Creative Writing Topics

Return from Autobiography to Creative Writing Ideas and Activities

---
Helping You Write Across the Curriculum!
copyright 2009-2013 www.creative-writing-ideas-and-activities.com